Vocaloid
is a singing synthesizer application software developed by the Yamaha Corporation that enables users to synthesize singing by just typing in lyrics and melody.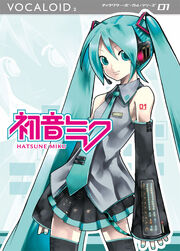 Development History
Edit
Yamaha announced its development in 2003 and on January 15, 2004, Leon and Lola, the first Vocaloid products were launched. They were not released as Yamaha products, but as Vocaloid Singer Libraries, developed by third party developers, the products were powered by the Vocaloid software, under license from Yamaha. Leon, Lola, and Miriam (Miriam using the voice of Miriam Stockley) have been released from Zero-G Limited, UK, while Meiko (released on October 5, 2004 and using vocal samples from the Japanese singer Meiko Haigo) and Kaito (released on February 17, 2006 and sampled from Naoto Fuuga) have been released from Crypton Future Media, Japan.
In January 2007, Yamaha announced a new version of the software engine, Vocaloid2, with various major improvements in usability and synthesis quality. Zero-G and others announced products powered by the new software engine in early 2007. PowerFX released the first Vocaloid2 package in June 2007, an English product named Sweet Ann. This was shortly followed in August 2007, when Crypton released Hatsune Miku, the first in a series of Japanese Vocaloid 2 character voices. The second package Kagamine Rin/Len was released on December 27, 2007 and the updated edition "act2" was released in July 2008. The first Vocaloid 2 product from Zero-G, Vocaloid Prima, an English classical voice, was finally released on January 14, 2008 in the UK and February 22, 2008 in Japan. It was originally scheduled for release in spring 2007. Prima was introduced at the NAMM Show 2008;. The third Vocaloid2 product from Crypton, Megurine Luka, went on sale on January 30, 2009. She is the second bilingual Vocaloid product, but the first one to be capable of singing in both Japanese and English.
Products Based on Vocaloid
Edit
Vocaloid
Edit
Leon: English male (January 15, 2004)
Lola: German and English female (January 15, 2004)
Miriam: English female (July 26, 2004)
Meiko: Japanese female (November 5, 2004)
Kaito: Japanese male (February 17, 2006)
Vocaloid 2
Edit
Character Vocal Series
Sweet Ann: English female
Hatsune Miku: Japanese female
Kagamine Rin/Len: Japanese female (Rin), Japanese male (Len)
Megurine Luka: Japanese and English female
Gackpoid: Japanese male
Megpoid: Japanese female
Prima: English female
Big-Al: English male
Sonika :Multilingual (English) Female
Tonio: English Male
External Links
Edit
Vocaloid Wikia article on Vocaloid
Ad blocker interference detected!
Wikia is a free-to-use site that makes money from advertising. We have a modified experience for viewers using ad blockers

Wikia is not accessible if you've made further modifications. Remove the custom ad blocker rule(s) and the page will load as expected.