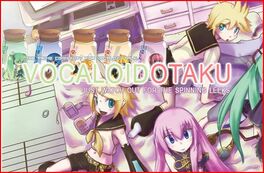 Welcome to VO Vocaloids

Edit
VO Vocaloids is a site for VO member to post their UTAU/Fanmade UTAU/Fanmade Vocaloid's information.
Join us at VocaloidOtaku Home of the friendliest faces that know just about anything about Vocaloids!
If you have a OC Vocaloid Why not sign up on Vocaloid Otaku And Show 'em off! Guarantee a fan or 12!
WE WELCOME ALL!
Just watch out for those spinning leeks!
*Announcement*
Edit
No new Announcements
Latest Fanmade Vocaloid Characters:
Kagamine Midori (Alexander-After)
Kagamine Aoi (Alexander-After)

Other Fanmades: Fanmade VO-Vocaloids

Latest UTAU Characters:

Other UTAU's: VO-UTAU's